The Vermont Review
Rock in the Name of Progress (Part II-"Space Wranglers")
By Brian L. Knight

progressive \Pro*gress"ive\, a. [Cf. F. progressif.] 1. Moving forward; proceeding onward; advancing; evincing progress; increasing; as, progressive motion or course; -- opposed to retrograde. (Websters Dictionary)

In the last issue, we were briefly introduced to the extensive world of progressive rock. In the next five issues, we will take a closer look at the bands that comprise the diverse styles. In this issue, we will look as "space-rock".

Following on the heals of Pink Floyd and the Soft Machine, were similar space rockers like Gong and Hawkwind who specialized in extended psychedelic rhythmic space jams that sent the mind whirling. Hawkwind has been the leader of the space-rock movement since the early 1970s. Although experiencing numerous lineup changes, the band never strayed far from its formula of heavy guitars and synthesizers. Through the course of its history, Hawkwind has consisted of many colorful personalities. For its singers, the band looked towards the eccentricities of Robert Calvert and science fiction writer Michael Moorcock. Both singers provided poetry and chants in between the band's extended improvisations. During the band's earlier years, the bassist duties were handled by Lemmy, who eventually was kicked out of the band for drugs and subsequently formed the speed metal group Motorhead (named after a Hawkwind tune). The star instrumentalists (and founders) of the band were saxophonist Nik Turner and guitarist/keyboardist Dave Brock who provided the epic length solos. In 1970, the bad boys Viv Prince and Dick Taylor of the Pretty Things often joined the band and throughout the years, Hawkwind has also been augmented by swirling keyboard psychedelia by Del Dettmar and Dik Mik. Founder Dave Brock has been the only continuous force in Hawkwind since the band came together in a jam session in 1969. Since those informal gigs, the band has attained a cult like status in which they have become the lords of outerspace. In over thirty years of existence, Hawkwind has achieved its status through countless live performances and subsequent live releases (so many official and unofficial releases that it is virtually impossible to catalog the Hawkwind discography). Just like their American space traveling counterpart - Sun Ra, Hawkwind's discography is virtually unknown and impossible to complete for a collector. Just as Sun Ra had albums called Strange Celestial Road, Love in Outer Space and Outer Spaceways Incorporated; Hawkwind album titles were Space Bandits, In Search of Space and Space Ritual. For a great overview of the Hawkwind experience, check out The Ambient Anarchists (Snapper Music,

)This 2 CD set covers the band from its earliest days – classics like "Urban Guerilla" and "Sonic Attack" right up to their present incarnation – the more techno orientated "Vega" and "Abducted". From the hard driving guitars of the early 1970s to the cosmic keyboards of the 1980s and 1990s, Hawkwind has always maintained its goal of celestial music. Over the years, the band's sound may have changed, but the songs remain the same (sorry for the cliché). This is best exemplified by the two versions of "Sonic Attack". The first version, from the 1970s, is acid hard rock. The second version is a cerebral synthesizer romp. Both succeed in spacing out.

Hawkwind was much more than an audio experience. Through their innumerable live performances, the Hawkwind lineups transformed their concerts into a full-blown theatrical event. When Robert Calvert was at the helm of the band, he would dress up in costumes and assume the characters in his songs. Sometimes he was dressed up in top hat and coat and at others, he brandished swords. Through out the performance, he would either act out or mime with song's story line. Meanwhile, the most vibrant of light shows were occurring on the screen behind the band members. During Hawkwind's 1976 tour, the stage was accented with huge blown up atoms and molecular structures (in the tradition of Pink Floyd's Pig and Sheep) which helped create the band's vision of "Atomhenge". During the show, the band members would brandish different costumes and lead the music from intense jams into Calvert's poetry and back. In a 1976 interview with journalist Geoff Barton, Calvert discussed the Hawkwind live experience: "All in all, it works up to a nice piece of theatre, spontaneous theatre that is. lt's great to be able to improvise something like that at the drop of a hat. Rock is a very theatrical thing, what with body language, gesture, movement, mime and the like. Although we're steadily getting into more theatre we're very wary about it becoming too contrived. In some way, it must grow out of the music. By the time the tour finishes we should have got all this down to a fine art - and we shall use it as a springboard for something really good. Rock theatre is at the moment doing little more than being attractive or sensational - it would be good to go a step further and produce something really valid."

The biggest forums for Hawkwind's heavenly journeys have been the English rock free festivals. Up till 1997, American fans had no way experiencing these legendary performances until the occurrence of Strange Daze 1997. Held in Sherman, New York, Strange Daze was heralded as America's 1st Spacerock Festival and signified Hawkwind's inaugural performance at an American outdoor festival. The day was captured on the album Strange Trips (Pangea Music International) which features the sets by Hawkwind (with Brock and a guest appearance by Nik Turner) as well as the new generation of space pioneers such as Quarkspace, Melting Euphoria, Nucleon and Architectural Metaphor. The recording is an excellent look at the state of space rock in the 1990s – heavy riffing guitars, oscillating swirling and swishing keyboards effects and cosmic poetry – all set to a full blown psychedelic pulsating groove. This kind of stuff never makes it to a radio station but god is it good.

The Gong Remains the Same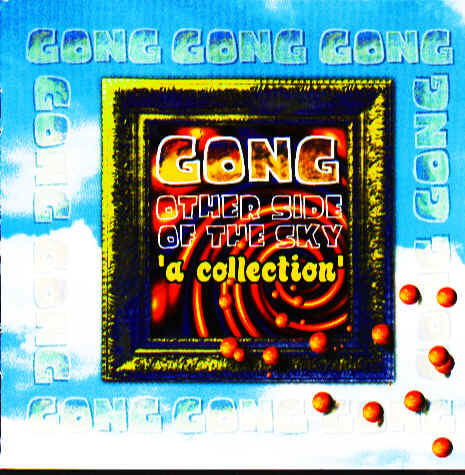 Another space rock psychedelic outfit that rivaled Hawkwind in both cult status and space out rhythms was Gong. Formed when Daevid Allen left the English fusion group, the Soft Machine and moved to France, Gong has a similar history of constant personnel evolution. Along with Allen, guitarist Steve Hillage, "space whisperer" Gilli Smyth, and drummer Pierre Moerlen cemented the backbone of Gong. Along with the remaining members, Gong's greatest work was the Radio Invisible Gnome Trilogy in the 1970s, which was three themed albums that combined fantasy tales and heavenly travels. The band members dressed in elaborate costumes that evoked feelings of Necromancers and Hobbits while many band members were practitioners of the occult(Gilli Smyth was a known "white witch"). Over the years, the Gong mythology has grown into a huge compendium of people, places and things. The foci of this mythology is Planet Gong, which is a greenish planer inhabited by Pot Head Pixies and Octave Doctors who all travel in Flying Teapots. On the earth side of things, there are characters such as Mista T Being, Fred the Fish, and Captain Capricorn who interact with the denizens of Planet Gong. Of course, all of this mythology is communicated through the songs and lyrics of the band (This creation of a mythical sub world was also mirrored by fellow Frenchmen, Magma, who created a whole new language, Kobian, and a corresponding world). Gong's imaginative narration and improvisation that covers blues, jazz, ambient and the avant-garde makes for a truly interesting sound. A best snapshot of the Gong of the mid-1970s can be found on Live Etc (Caroline Records) which contains the classic lineup and features cuts from their epic trilogy. For a great overview of the band, there is Other Side of the Sky- A Collection (Snapper Music), which is two CDs worth of classic early Gong and is one of the best collections that can be found today. There are many of the cuts from the Invisible Gnome Trilogy as well as their earlier 1971 material and Allen's late 1970s experiments with the band Material, which also featured famed electronics wizard and Miles Davis re-mixer Bill Laswell. One time Gong member, Mike Howlett, said "Gong expresses through music the union of science and spirit, electronics and musicianship, practical reality and fantasy." That is the best explanation of the band that exists and you can find it all on Other Side of the Sky- A Collection.
Since the 1970s, Gong has grown into the Gong Global Family in which there have been many offshoot bands led by Hillage, Moerlen, and Smyth. Smyth once said "The original Gong band is like a magic mushroom that had grown to large, spawned a series of mushrooms and when it blew apart in the wind all it's members went off to develop their own particular vision." One such spawning is Gilli Smyth's Goddess T who just released Electric Shiatsu (Pangea Music International). During the early days of Gong, the band was considered to be one of the first explorers of electronic music and Goddess T is a logical extension of that sound. By blending traditional instruments like Tibetan Bowls, violins, sitars, and tablas with keyboards loops, space vox, glissandos, vocal chants, pads, fills, and drones; Goddess T creates a sound that is much more ethereal than Gong's earlier driving pieces that induce the listener into dreamy trance. Although slower in space and looser in structure, the 1990 songs of Goddess T and still create a psychedelic dream state that can be serene at times and disturbing at others.
One of the guest artists on Goddess T was ex-Gong guitarist/vocalist Daevid Allen. While Smyth, Moerlen and Hillage extended the Gong ideals well into the 21st Century, Daevid Allen is going strong with another strain of music through Daevid Allen's University of Errors and the album Money Doesn't Make It (Innerspace Records). In contrast to the sounds of Gong or Goddess T, Daevid Allen's University of Errors is slightly more pop orientated. Money Doesn't Make It, recorded in 1998, consists of twelve tunes that combine searing guitars with Allen's socially aware lyrics. It appears that Allen wanted to loosen up after years of playing jazz and complex fusion and came out with this freewheeling album that defies any genre.
The Next Generation?
Both Shiatsu and Money Doesn't Make It were recorded in San Francisco, the birthplace of American psychedelic music and it seems rather apropos that members of the European purveyors of pyschedelia, Gong, have made their home in San Francisco. Along with the Gong Global Family, San Francisco is home to a whole new generation of progressive pyschedelia and Mushroom and Melting Euphoria lead the movement. We have already seen a bit of Mushroom for the members of the band comprised Daevid Allen's University of Errors. Like Allen, the members of Mushroom deviated from their true sound, trance inducing space rock, jazz-fusion, when they assisted in the recording of Money Doesn't Make It. The band's latest release, Analog Hi-Fi Surprise (Innerspace Records) is seven all instrumental songs of that combine Bitches Brew era Miles Davis ("Our Buddy Miles") with Hawkwind like jams ("Rackets"). The tunes of six person Mushroom feature jazzy Rhodes electric pianos, deep organ pulses, Dark Side of the Moon like saxophones, Jethro Tull-ish flutes wailing guitars and rapid tempo changing rhythm section. Like their band name suggests, Mushroom's sound is definitely belongs to the psychedelically adventurous. Joining up with Mushroom is fellow Bay area musicians, Melting Euphoria who pick up where early Floyd, Gong and Hawkwind left off. Like their English counterparts of yore, Melting Euphoria's sight and sound is characterized by swirling phased guitars, multi-layered synthesizers and an intense light show. The band is the perfect combination of ambience and hard driving grooves and with their latest release Over the Edge of the World (Cleopatra Records); you will not be disappointed. There are obvious links to the drug world with song titles like "Tabs of Blue and Silver Sunshine" while songs like "Flying Eyes Like Saucers" suggest the spacieness of the band and "Portals of Past" hark to the traditional Floydian sound.
As we will find in the next four issues, space rock is just the tip of the progressive iceberg. Stay tuned for traditional progressive bands like Yes and King Crimson, the jazz influences in Soft Machine, the electronica pioneering of Richard Pinhas, the avant-garde of Henry Cow and modern day wizardry by bands like Ozric Tentacles and Thinking Plague.
In the nest issue of the Vermont Review, will visit Maryland's Cuneiform Records and trace three progressive musicians – Soft Machine's Hugh Hopper, Heldon's Richard Pinhas and Univers Zero's Daniel Denis from their earliest progressive works to their output in the 1990s.