The Vermont Review
Kingfishing for Blues
An Interview with Matthew Kelly
By Brian L. Knight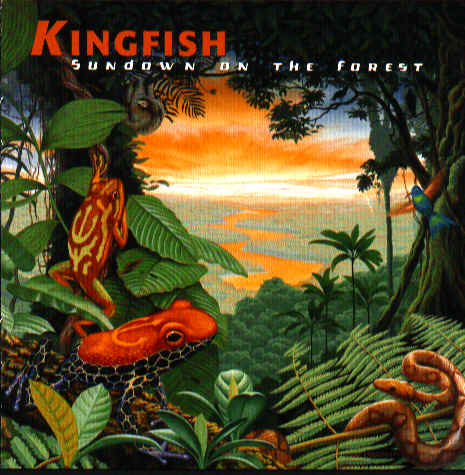 From playing harmonica with Grateful Dead on Wake of the Flood and Shakedown Street to jamming with Bob Weir in the band Kingfish to his recent tours with Ratdog, singer/writer/harp player/guitarist Matthew Kelly has always been a name synonymous with the Grateful Dead. This relationship most likely has its roots in Bob Weir and Kelly's childhood days together which ultimately led to the two playing in Kelly's Kingfish during the mid-1970s. Despite this long association with the Dead, Kelly has also been extremely active in music outside the Grateful Dead sphere. Prior to forming Kingfish in 1973, Kelly played harmonica with bluesman such as T-Bone Walker and Johnny Lee Hooker. Throughout the 1970-1990s, he kept himself with numerous San Francisco acts and he has always kept Kingfish an active project. During this thirty-year musical journey, Kelly never steered to far away from his love of the blues. From the low down Chicago/Delta blues from his earliest days to the country honky-tonk blues of Kingfish, Kelly has always kept his fingers in the blues pot.
Kelly's latest effort is Sundown in the Forest (Phoenix), covers a whole gamut of musical styles and keeping with his collective approach to making music, Kelly recruited San Francisco musicians such as Steve Kimock, Bob Weir and Barry Flast for his latest album. The album's title track is dedicated to Julia Butterfly Hill who is the young lady that has been living in a tree for the past year to protest clear cutting. (Hill has been receiving a lot of support from the music community as Phish's Trey Anastasio recently penned a tune in her honor). One of album's other remarkable tracks is "Ridin High" which is a tune built behind an old Jerry Garcia solo. Since he was born, Matthew Kelly has always been a northern California boy, calling Marin County home for quite some time. Just like fellow San Franciscan rocker, Grateful Dead drummer Bill Kreutzman, Kelly made the big move to the north shore of Hawaii. The Vermont Review got a chance to speak to him while he was hanging in his plush jungle home.
VR: Are you playing any music in your new home of Hawaii?
MK: I have been playing with a couple of bands where there are actually some great players. These guys have chosen to forgo the major rock and roll music scene that exist in the big cities in order to live here. People have to make a lot of sacrifices to live in a place like this and it is definitely a lifestyle choice that is not for everybody. There are some great players, if they were in Los Angeles or San Francisco, could be doing exceptionally well. Whereas here, they are barely able to make a living and they have to do other jobs as well.
VR: When you are relaxing around your home in Hawaii and you feel like playing music, which instrument do you pick up first, the guitar or the harmonica?
MK: Well, around the house, I play the guitar. I write music on my guitar. When I play the harmonica, I want to be somewhere I can be loud. I can't play it soft like I can play the guitar so I like to go out on a beach or somewhere I can't be heard. That how I learned. I would go out by the river and hide myself down in the tall reeds.
VR: You probably scared some canoes off…
MK: In those days, I probably did.
VR: What was the first instrument that you learned?
MK: The first instrument that I learned was a type of congo. When I was a kid I was living in Mexico City for a short time. My father was down there and it was just the two of us. The local musicians played hand drums and I fooled around with them. I never got really seriously into then, but it did serve as a foundation. I really did not start playing the harmonica until I was in college – my first year in college. It came to me really very quickly. I really did not have a clue where to begin because nobody I knew played the harmonica. Most people at that time didn't even listen to the harmonica. Blues at that time was not popular –at least in the mainstream. I had a real fondness for it. The harmonica gave me the chills and I said " God, I have to learn that." It was sort of a trial and error method. I ended up buying all the wrong harmonicas when I started out. I took me a long time to figure out what was what but I listened to records and learned.
VR: Did any particular player first catch your ear?
MK: The first player that I really learned from was Sonny Terry and James Reed. I hadn't even heard of Little Walter, nor had anybody else that I knew. It wasn't until a year later, when I was in a store in Berkeley, and they played a Little Walter album. I couldn't believe what I was hearing. I couldn't believe that anybody could sound like that, so I basically accosted the poor gentleman at the cashier's desk and I asked who it was. I picked up bits and pieces from all types of players. I like listening to saxophone players and picked up on what they are doing. A lot of the harmonica players, I noticed, were doing basically the same types of things whereas the sax players have a real interesting kind of phrasing that the harp players did not have.
VR: These would be the R&B sax players more than the jazzy ones?
MK: Oh yeah. The jazz style was to hard to play unless you played with a chromatic – like Stevie Wonder played or Toots Theilemanns. That is a whole different instrument.
VR: Early in your career, you played with some great blues players such as T Bone Walker, Champion Jack Dupree and Johnny Lee Hooker……….
MK: It was playing with those guys and Mel Brown, that is what really influenced me more than anything else did. It wasn't so much listening to other harp players, it was playing with these great blues musicians. They taught me things by virtue of being with them all of the time. Quite frankly, I could not believe my luck. At that point in time, I was enamored of all of those guys. It was like some unknown guitar player being asked: "How would you like to play with the Rolling Stones?" or "How would you like to play with the Beatles?" I was playing with my heroes.
VR: How did you arrive to playing with those guys?
MK: Sheer foolishness, on my part. I was not the most brass type of fellow. I was pretty mellow. I had a few drinks and my friends and I went to an all-black nightclub, an after hours club, where all the black musicians would go to play. We were the only white people in the club, we had a few drinks, and got a little loose, and quite to my own surprise I found myself walking towards the stage right in the middle of a song. I jumped right up and started playing along, which is not the kind of thing one does in a club like this; it was really kind of rough you could get yourself killed. In my case it worked to my advantage because Mel really liked my playing and saw potential in me. Mel basically said I'm doing a record in LA, I'm driving down the day after tomorrow, why don't you come down with me? We did, we drove down in his Caddy. He lived in Watts, and in between sessions we would go to these blues clubs in LA and he would introduce me. He was a hero to the black community. I got to meet all these great blues players like T- Bone and Jimmy Witherspoon. It ended up being a truly life changing experience for me. Aside from getting on Mel's record that was how I made all my contacts with that world. I ended up playing with T-Bone later on, right up until he passed away, which was really unfortunate because we were just getting ready to go into the studio and do a record. There are some live tapes floating around of stuff I did with T-Bone but they got lost somewhere over the years. If there is a guy out there named Red and you've got those tapes…boy I would be forever in your debt!
VR: Did playing with all these blues musicians lead up to playing with Kingfish in the early seventies?
MK: Well, yeah it's kind of a convoluted story. During these years I started a band with Chris Herold and Dave Torbert, who are part of the original Kingfish. We were really close friends. We had a band in the Southern Bay area. Much like the Grateful Dead we were gathering momentum in the San Francisco area. We were getting a following down there. Then there were three other bands...its really very complicated.
VR: What were the names of those bands?
MK: One of the bands was Horses. I 'm a bit embarrassed about. We actually made a record. We were backing up this Hollywood singer, a guy who was sort of a Jim Morrison type. We got flown down to Hollywood and lived there for three or four months while we were making this very commercial record, of which Jump for Joy (A Kingfish tune) was on the record with this guy Don Johnson was singing. Fortunately this record is very difficult to get. So for anybody that wants to run right out and buy it, I think they will have a very difficult time. It is just as well for it is a bit embarrassing.
Actually what happened was I ended up going to England. I was playing in a band called Gospel Oak over there. The name came from a debunked underground station (tube station). I met up with these guys from Illinois who had a record deal with MCA Their manager was one of the publicists for the Beatles so it sounded like a really good deal. I wrote to Torbert, who was in Hawaii, and we sent him money for a plane ticket. He was going to fly over and join the band. From Hawaii, he stopped at his parents for two days to pick up a few things and fly to London from there. While he was there at his parents he got a phone call from David Nelson of the New Riders of the Purple Sage who said: ' we have this new band with Jerry Garcia on pedal steel and we would really like for you to play bass.' David had a difficult time with this so he called me up and told me the situation and I said 'yeah. Go for it. Do it.' This worked to my advantage later on because Gospel Oak ended up breaking up and when I came back from London, I started sitting in and playing with the New Riders. Out of that and some recording sessions that I had been working on, David quit New Riders and we started Kingfish together. That was in 1973.
VR: How did you come up with the name "Kingfish"?
MK: Names are a funny thing. We came up with some hysterical ones We sat around for weeks trying to figure out what too name the band. We were an R&B, instrumental rock band and the name "Kingfish" just felt good. We liked the sound and feel to it. The name lended itself to our logo, which I really like a lot – the Trident. The trident is very powerful symbol throughout the world – Shiva, Neptune and Poseidon were all tridents.
VR: It seems that Kingfish has a lot of deep roots. You said that you knew Dave Torbert and Chris Herold for quite some time. How long have you known Bob Weir for?
MK: Bobby and I have known each other basically all of our lives. Since we the time we were seven or eight. We lived right down the street from each other. We went to the same prep school. We go back a long ways. Around 10th grade, I left the school and so did Bobby to go off elsewhere. We both got shipped off to different schools. I did not run into Bobby until years later. I was in Palo Alto in the 1960s in my old Volkswagen. On the freeway off-ramp, I picked up a hitchhiker – a gentleman by the name of Robert Hunter, who was on his way up to San Fransisco to what was later to become famous Grateful Dead house (710 Ashbury). Most of the Grateful Dead lived in that house. Bobby and I reconnected then. When the Grateful dead took their break (1974-1975), it was very helpful for Kingfish. Our piano player, Nick Moore, had gotten killed in a car crash and we couldn't find a replacement for him. We went on just as the four of us. Bobby started checking out and sitting in with the band in 1974. He basically took the place of the keyboard player. Bobby's style of guitar playing is so perfect for that because he picks up a lot of stuff listening to pianists. His phrasing and just the way he approaches the guitar. That really worked for Kingfish.
VR: Did you and Booby Weir every play together when you were young?
MK: We played football together and fooled around but we didn't play any music.
VR: Besides Weir's joining up with Kingfish, your relationship dates back to the Wake of the Flood album. What were your contributions to that session?
MK: You can't really hear me. I played on Weather Report Suite. It was a strange choice. Bobby very generously invited me to play on the record but that particular song really was not the best song for the harmonica. But that is what he wanted me to play on. I spent a lot of time trying to figure out parts that would work on the song. It was very challenging. I love the song. It is an incredible, incredible tune. It just wasn't suitable for the harmonica. I wish I came in played on Workingman's Dead. It would have been better for what I play. I also played on I Need A Miracle and Minglewood Blues on Shakedown Street.
VR: One of my favorite tunes, from both a Grateful Dead and Kingfish point of view, is Lazy Lightning and Supplication. Did he bring that into the studio or did you all work it out together?
MK: That was Bobby's brainchild. He just came up with it. It was not something that the rest of us had to do with. It was his tune and a great tune it is. It really came out nicely. It is one of my favorite tunes on the record. I really like the way the two work together. Obviously, Bobby must like to for the Grateful Dead played it for years as well.
VR: Jumping ahead a bit. You released a relatively obscure album in 1986, A Wing And A Prayer, which features a whole slew of San Francisco artists. What do you think of that recording?
MK: The amazing thing is that very few people have had a chance to hear that record. It did not get much publicity or push from Relix Records. The people who have heard it have given it amazing response. People are coming up to me saying "It's too bad that it is so difficult to get A Wing and A Prayer." All I know that is put ten years of my life into that thing – on and off. The process of making that particular record was so incredible. I was financing it myself. I would record a little bit, run out of money and then shelve it a couple of years. And so on. Because of that, it turned out to be a ten-year anthology of Bay Area music. It had all of these great players who were part of the original San Francisco music scene – John Cippolina, Jerry Garcia, Brent Mydland. Keith Godchaux. I did set out to make an anthology and that is what it ended up being. It serves that purpose very well.
VR: Like you were saying, A Wing and A Prayer, has an ensemble feel to it. To a some degree, I also consider 1999's Sundown in the Forest to have the same collective feel.
MK: I have heard people say that before. It must be inherent in my approach to being a record producer. It probably has to do with the fact that I am a product of the 1960s. That was so much of the ethics of that era. Everyone is playing together. It was a musical celebration. It is a part of me. On Sundown on the Forest, I tried not doing that too much. A Wing and A Prayer was not Kingfish while Sundown on the Forest is a Kingfish album. I did not want to get too far away from that but we did bring in some special guests who were appropriate in the extended Kingfish family.
VR: Did the mystery Garcia solo on Sundown on the Forest also come from the same session that Garcia appears on for A Wing and A Prayer?
MK: Yes it did. It came from a different take. I thought it would be great on Sundown on the Forest but I didn't think it would work. The rest of the stuff on the track was so dated and poorly recorded and I though it wasn't going to be feasible. We decided to take Jerry's part and Bill Cutler's original vocals, which were recorded really well. We rebuilt the song essentially around Jerry's part. We added Cutler's part later. It was challenging. Part of the charm of Jerry's playing was that he would play in and around the beat. He did not always play with the beat so for a drummer or bassist to play along, it was a real challenge. They did a great job. I think we really succeeded in doing it justice.
VR: One of the songs on Sundown on the Forest is "Every Little Light" which dedicated to Jerry Garcia. Was it a difficult song to write?
MK: It was more necessary to write in so much that it was cathartic. It was either the 2nd or 3rd date that Ratdog had ever done. Our first tour ever. I got the news that morning that Jerry Garcia had passed away
And we had to perform that night. Obviously, it was a very emotional time for everybody. It seemed like the appropriate thing to do. I ended up locking myself in my motel room bathroom – it was good acoustics in there. We worked it out to perform that evening. It felt to be able to do that.
VR: Sundown on the Forest has a re-make of an old Kingfish tune, "Jump for Joy", which is getting some usage from of today's band such as New York's Ominous Seapods. Why did you redo that tune?
MK: this album is fresh material for Kingfish. There was a lot of new good stuff. I didn't want to do anything at all from the past. It was a hard choice. I almost left "Jump for Joy" off the record. The reason I didn't was that there are a lot of younger fans that were not around for the prime Kingfish years. Plus, I wanted to try an updated version of the tune. Other than that, it is all new material. I am really happy with the record, the way it turned out and the songs. Especially the tune "Sundown in the Forest." Anything that can help people to be more conscience and aware of what is going on in terms of the environment is a good thing. There is great songwriting and a lot of great people contributing. What did you like about the album?
VR: I always enjoy versions of "It Takes A Lot To Laugh, It takes a Train to Cry". I also really like "Padlock Cufflinks"
MK: An old friend of mine James Nelson wrote that. It's a good tune. I am glad you like that. It is a bit dark, lyrically, but it is making the point. I like the way Bobby sings it and I like the way it turned out.
VR: Have you had a chance to meet Julia Butterfly Hill (Editor's note: Julia Butterfly Hill is the young lady who has been living a tree in Northern California to protest clear cutting. The album Sundown in the Forest is dedicated to her)?
MK: No. I have been in Hawaii and I just got back from India. I have not been to the continental United States recently. On of my goals this summer is to go up there, meet her and personally present her with a record. I would love to meet her. I have heard some interviews with her that I was very impressed with and she sounds like amazing young woman. I have nothing but highest regards for her and I am looking forward to meeting her.
VR: What brought you to India?
MK: I go to India fairly regularly. India is the easiest place to travel in for a lot of numbers. It is a very rich country culturally speaking, certainly not monetarily. Culturally, it is fascinating. The main reason I go is that I do a meditation, a retreat, in the north. There are no phones or faxes. It is in country. It is great place to go.
VR: Any future plans for playing with Ratdog?
MK: Actually, I quit playing with Ratdog in June, which was a very difficult choice for me to make. It was a very emotional choice because I really loved the guys in the band a lot. I had gotten to a point where I had been touring on and off for thirty years. I needed a break from that and I wanted to explore different things. Touring took up so much of my life. I am very honored and grateful to be with Ratdog.
VR: Going back to the 1980s, you played with Bobby and The Midnites with drummer Billy Cobham. What was it like to play with Cobham?
MK: He is an amazing drummer. There is nobody that plays like Billy. I have never played with any serious jazz players before so playing with those guys almost made me feel out of my element.
VR: Do you have any plans for the Millennium?
MK: My plan for the millennium is to be right here on my little island, my little sanctuary in the middle Pacific, is my plan for the millennium.
VR: You are in the exact spot where everybody else in the world wants to be. Lucky you.
Once everything gets back to normal after the Millennium, Kelly is taking Kingfish back on the road where there are hints of "guest musicians.". Until then, check out any one of Kingfish's latest release Sundown on the Forest. If you are a fan of the psychedelic-country-blues that Kingfish, the Grateful Dead and New Riders of the Purple Sage defined during the 1970s, then this release is the perfect calling.