The Dude Of Life
By Brian L. Knight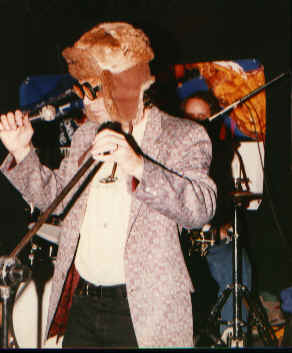 This past weekend, a product of the Burlington music scene returned to his old stomping grounds. Steve Pollak, a.k.a. The Dude of Life, spent the weekend rehearsing with his old band in preparation for his new tour.
The Dude of Life is known for his on-stage appearances with Vermont's Phish and his solo act. In 1994, Steve and his band recorded Crimes of the Mind and followed it with an east coast tour. After a some management difficulties, the band disbanded and the Dude of Life was missing from the musical scene. Now, three years later, the Dude of Life and the original band have re-entered the industry and they are bringing their music "to a whole new level." Besides better management, Steve Pollak has also re-invigorated his writing style. His previous music was best characterized by the song "Self":
"Welcome to the 1990's ,
I hope you make it through, But if you get in trouble honey,
This is what I have to say to you,
I don't care about anybody but myself."
These lyrics symbolized the turbulent times of the late 1980's and early 1990's, and the unsureness that the younger generations had to face. To some degree, Steve Pollak has experienced some of these tough times and now he is ready for some more.
Steve Pollak has an amazingly upbeat attitude towards music and life itself. "The main purpose of good music is for it to serve as an escape from reality. Not only escape for my own reality but the realities of the listeners. I don't want to be reminded of how terrible things are, I want to ultimately create an escape." Steve continued to say that this is best achieved through "a lot of fun, shaking your booty and lettin' loose." With this kind of attitude, one can only imagine how the music sounds.
I first met Steve Pollak when I was entering Club Toast to see Pork Tornadoes, who is a band that consists of Steve's original band, the X-Ray's saxophonist, Joe Moore and Phish's Jon Fishman. My first conversations with Steve Pollak involved talks of drunken wedding parties, crazy trips to the New Orleans Jazz Festival and just about the benefits of a quality friendship. Towards the end of evening, Steve got on stage with Pork Tornadoes and the entourage cranked out some tunes from the 1994 album, Crimes of the Mind.
Steve didn't' some to Burlington just to make some impromptu stage appearances or visit some old watering holes, but he came to rehearse with the band at guitarist Dan Archer's recording studio. Along with bassist Aaron Hersey, keyboardist Phil Abair and drummer Kenny Goldfield, Steve is both rehearsing and recording his second album. The band has already recorded half the album and they are looking to record about another 7-8. The album is full of musical guests such as Phish's Jon Fishman, Trey Anastasio and Mike Gordon. In addition, there are some tentative plans that other bands such as Moe and Shockra may collaborate for a couple of tunes. In general, Pollak writes most of the lyrics and melodies, but he "likes to leave creative room for the musicians." The album is due to be released some time this summer and Steve states that the album is "rockin' a lot harder than the first album. When you are ready to go out to kick up you heels and celebrate, this is the album you will want to turn on."
Steve grew up in White Plains, New York and attended the Taft School in Watertown, NY. It is here where he met Phish's Trey Anastasio and adopted the name, "Dude of Life." During some unsanctioned extra-curricular activities, Steve walked into a room, donning goggles, a hat and enshrouded in a tapestry. Pollak explains: " Along the way, amid mystic mutterings and profuse laughter, I was knighted The Dude of Life." During these years, Anastasio and Polak formed the band Space Antelope, and it was this collaboration that brought them to Vermont together.
Steve speaks fondly of his Vermont years, and reminisced about the early inception years of Phish. There were many years characterized by late night percussion sessions on 202 Pine Street. This percussion sessions consisted of pots, pans and silverware. What of the neighbors? "They would come on over and join in." Steve spent some years at the University of Vermont and then he transferred to Suny Purchase, where he finished his studies in Literature. Steve said it was these years of reading Proust, Balzac and henry Miller that had an influence on his songwriting. His last book read? Howard Stern's Private Parts.
Steve also attributes a lot of his influences to English Rock and Roll. Steve spent many of his early years listening to Led Zeppelin, David Bowie, Iggy Pop, Pink Floyd, T-Rex and the Beatles. In particular, the Beatles' White Album was significant during his younger days: " I would steal my brother's White Album and I would scratch the #$%@ out of them." It wasn't all English rock, for Steve also had a place in his heart for Jimmy Hendrix and the Grateful Dead ( Steve was one of the fortunate individuals to see the Grateful Dead play the band's anthem "St. Stephen", live in concert. Besides the White Album, Steve's favorite album's are Hendrix' Axis Bold As Love, and Iggy Pop's Lust for Life. Favorite movies? Scarface, One Flew Over the Cuckoo's Nest and Silence of the Lambs.
With this new fresh attack on music, Steve is primed and ready. He reminds me that it hasn't been the easy road. He attributes some of his focus to his day job, which is working for Sam Ash music in White Plains, NY. "It provides me with inspiration to write and it keeps me much more focused" Don't get him wrong though, for he wants music to be his full time job." Steve Pollak does have focus and determination and he comments: "I know that I wanted to do what I am doing since I was three years old. Other kids wanted to be firemen, astronauts, I wanted to be a musician. I am willing to make any sacrifices to make sure that I am successful."
Steve doesn't attribute all of this determination to himself. His wife, Kathy Polack, has been the "Rock of Gibraltar." " She stood by me through thick and thin.. during the bleakest times, she set the fire under my butt." Kathy is the director of a Childcare Center in Peakskill, New York and although not a music freak, she likes Steve's music. The two met at Suny Purchase and when Steve's family though he was crazy for going down the musical path, "Kathy insisted on going for it." Steve thinks that the topsy-turvines of the music industry has strengthened their relationship. " We are healthy and in a great mindframe." Steve adds: When the millions start rolling in, I will give it all to her." I hope it happens for both them.
Steve's final comments on Vermont: " All this cold weather makes it imperative to shake out booties a little bit faster." The Dude of Life is coming north and hopefully we will satisfy his directive.