One Funky Weekend In Nawlins
By BK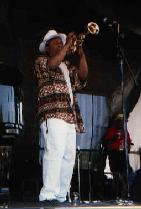 New Orleans is a town of many different names - The Big Easy, The Crescent City and Nawlins. Within this city of many names there are also numerous districts and neighborhoods- the French Quarter, Bourbon Street, Uptown, the Warehouse District, Downtown, Vieux Carre, Downtown and the Garden District. Compromising this vast geographic landscape lives a veritable cornucopia of peoples, races, cultures and nationalities. There are descendents of both French and Spanish colonists. There are Native Americans and there are Irish, Italian and German immigrants. Then there is the Afro-American population consisting of descendents of slaves, Creoles, and Caribbean exiles. Amongst all of these people, the range of socio-economic classes are sufficiently covered. There are the huge plantation-like homes of the upper class, shanty towns littering crowded streets and every thing in between. With all of these factors, New Orleans is virtual melting pot of culture, class and race.
With such a gathering of different cultures, one would think that New Orleans would be characterized by racial strife, social upheaval and class conflict. Obviously, New Orleans, like any major metropolitan area, suffers from these problems. The thing that differs New Orleans from any other city is that it possesses a bonding agent that brings the entire population together, and that agent is music. No matter the class level, geographic situation or heritage, the people of New Orleans love their music. There is funk, jazz, R&B, Cajun, country, Zydeco, calypso, reggae and it is for everybody to enjoy. There is no event in the course of a New Orleans that typifies this sentiment than the New Orleans Jazz and Heritage Festival.
The New Orleans Jazz and Heritage Festival first started in the early 1970s and has steadily grown from a small gathering of music aficionados to a world class, two week long all out party and celebration. This past April, the Vermont Review sent two of its crack reporters( and its Urban Liaison) to depths of New Orleans to sample its music, food and of course, its extraordinary nightlife.
Upon our arrival into New Orleans, we headed straight for our living arrangements. I knew that I was in for a good time as soon as I saw a sign for Louis Armstrong Park. Satchmo may be one of New Orleans's finest musical exports and his influence can be seen all over the place. It was nice to a city pay homage to its arts culture and it was all an indicator of New Orleans's immersion into music.
For months prior to the Jazz Festival, I was hearing disparaging rumors about our living arrangements. Some people were saying that we were living in a mansion and some a hotel. I was leaning more towards the hotel theory but as it turns out, it was a mansion run by a hotel. We arrived at our ten room, monumental 150 old mansion in Garden District, also home to Anne Rice. The home was a coordinated effort of over 30 crazy New Englanders who were ready to have a good time.
No better way to show our appreciation of our new home and neighbors then to hold a kegger. No keg party is complete without some entertainment, so the coordinators (I was simply a passenger for this ride) took the matters into their own hands and invited the Rebirth Brass Band to play in the rather large hallway. The Rebirth Brass Band is the ultimate street party band. They are very portable and they know how to incite a crowd with enthusiasm. These guys completely redefine the musical term "unplugged".
The days during the Jazz Festival were spent at the Fairgrounds/ Racetrack. There were approximately six main stages with music going non-stop from 11:00 A.M. to 7:00 PM, and many smaller stages and tents. There was such an overabundance of music that it became a daunting task to choose which act to see. Luckily for us, we enlisted the support of a Tulane graduate, who served as an excellent tourguide through the seamless web of music, food and people.
One of first acts that our faithful leader brought us to was Kermit Ruffins and the Barbecue Swingers. Kermit is a trumpet playing alumni of the Rebirth Brass Band who amicably split with the band to take his music in a new direction. While the Rebirth Brass Band specializes in upbeat, loosely organized dance tunes, Ruffins favors a more structured jazz tune. Ruffins also departed from the Rebirth Brass Band by intoducing some strings and ivories into his band.
Like so many bands that played through the Jazz Festival, Ruffins played at Congo Square. Congo Square was one of the most unique places on the fairgrounds. The stage was smack in the middle of the field and was surrounded by booths that were selling African drums, clothing and assorted indescribable artifacts and gizmos. During one set break, there was even a African dress wear fashion show up on the stage in which various back-up singers strutted their stuff just as well as their voices. The best thing about Congo Square was that it was unblasphemed by the world of corporate sponsorship. Other Fairground's Stages bore the names of Polaroid and Ray-Ban, while Congo Square was bound by heritage.
Congo Square is more than a stage, it is a re-created New Orleans landmark. In the older days, long before the Civil War, Congo Square was a gathering spot for both Africans and Indians who came together to share spirits, dance and singing. It was this vibe of camaraderie and heritage that was successfully recreated within the Jazz Fest Fairgrounds.
Another band to grace the Congo Square stage was Coolbone. These guys have synthesized hip-hop and the New Orleans brass sound to create a Brass-hop. With a full brass band and three singers, Coolbone burst out onto Congo Square with enough energy for everybody in New Orleans. Coolbone has released an 18 song album called Brass-Hop and is highly recommended. Hip-hop and jazz of have been fusing together over the last three years in the form of acid jazz. Coolbone is New Orleans's take on this successful equation. Coolbone embodied the Jazz Festival spirit for they took music with deep cultural roots and adapted it to the modern era.
The Jazz Festival fairgrounds was a lot more than just music. There was food everywhere. If you are into culinary experimentation, then this is the place for you. Crawfish etouffes, fried green tomatoes, jambalaya, po-boys(shrimp, crab, or crawfish), cochon de lait, soft shell crab, spinach and artichoke casserole, alligator pie and a whole mess of Miller and Miller Lite. Unfortunately, even my robust girth did not have enough time and room to do full scale sampling, but when I did eat, it was heaven.
The fairgrounds were chock full of music. Some of the big acts to grace the stages were Jimmy Buffet, Ani Di Franco, the Neville Brothers, Doobie Brothers, the Radiators and Better Than Ezra. Not to discredit these acts in any way, for their performances were all top notch, but the festival truly belongs to the local acts who get to show all the tourists exactly what they have been missing for so long.
The New Orleans's music scene somewhat reflects the lifestyle of Anne Rice's Vampire Lestat. During the day, the music maintained a calm and collected feel, almost civilized. As the sun went down over the horizon, a creature would slowly arise from a dormant sleep and grace the New Orleans's nightspots. This creature was not a bloodsucking lover but rather a harbinger of the groove. This creature was loosely called funk. Funk was everywhere. It came oozing out of every car stereo, restaurant lounge and dancehall. If one was to find the source of the funk, it would be difficult to locate. It could be found at the Contemporary Arts Center, or it could be found at any one of the three Tipitina's. Perhaps it was the Mermaid Lounge, House of Blues, or the Howlin' Wolf. Personally, if I had to put a finger on it, the funk was emanating from a place called the Maple Leaf Bar.
When you think of a bar, visions of a commercial district comes to mind. In an average city, bars are located next to stores, restaurants, offices and other bars. This is not the case of the Maple Leaf bar which is located deep in the heart of a residential neighborhood. The Maple Leaf is a small bar with a long narrow dancehall and an outside patio area. Another characteristic that was typical of most New Orleans' night spots was that the street was a simple extension of the bar itself. For every ten people inside the bar, there must have been another 5 out on the street. As long as one is not carrying a glass battle, the consumption of beverages has the green light in New Orleans.
The Maple Leaf is mired in tradition. It has been the homebase of many a New Orleans' band. During his heyday, the great pianist, James Booker, made weekly stands at the Maple Leaf while the Rebirth Brass Band and Walter "Wolfman" Johnson call the place home these days.
A typical night at the Maple Leaf features three bands a night with the first band getting on at 10:00 PM and the last one reluctantly putting their instruments to greet the sunrise at 7:00 AM. With so much music occurring elsewhere in the city, our entourage always seemed to catch the closing act. On Friday night, it was the Flavor Kings. Their name may sound like an ice cream stand, but their sound was even cooler. The Flavor Kings managed to capture the sounds of a New York groove and blend it right in with New Orleans funk. The end result were seeming endless improvisational jams with a whole lot of brass.
Saturday night was Walter "Wolfman" Washington who knows better than anybody else how to bring the house down. The Wolfman recently graced the stage of Burlington this past Spring but Club Metronome is no Maple Leaf. The Saturday night show also featured Smilin' Myron. Like Mr. Wolfman, Smilin' Myron are no strangers to Vermont as they called Burlington, VT homebase in 1991. Since their northern sabbatical, Smilin Myron have tightened up their sound an released a new album What About The People. Smilin Myron takes on a multicultural flavor by adding a little latino to their funk.
These are just a few of the many bands that we were treated to during the course of three evenings. We can not forget the endless funk jams of Galactic, the improvisation of Medeski, Martin and Wood, the blues harp of James Cotton, the slide guitar of Snooks Eaglin and the beautiful piano playing of the elder statesman of the Marsalis family - Ellis. Admidst all the jazz, blues and funk, there were also some music that defied the norm of the weekend. One evening featured the strong lyrics of Royal Finger Bowl. These guys were a powerful trio who put a less emphasis on the groove and a little more on the words. Royal Finger Bowl was followed by the Klezmer All-Stars. Nothing like some traditional Jewish music with a modern twinge to make your Jazz Festival a full blown cultural experience. Their style of music? They like to call it "Rhythm and Jews."
A weekend in New Orleans wouldn't be complete without visiting two of the cities greatest icons/landmarks. Luckily for us, we killed two birds with one stone when the funky Meters played at Tipitina's. The funky Meters are the second coming of the original Meters. The band consists of original members Art Neville(keyboards) and George Porter Jr.(bass) who are joined by Russell Batiste(drums) and Brian Stoltz(guitar). The funky Meters brought the house down with their fine blend of rock and roll, funk and R&B.
As for the other two original members of the Meters, they could also be found throughout the Jazz Fest weekend. Joseph "Zigaboo" Modeliste and Leo Nocentelli made numerous appearances. Zigaboo single handedly revolutionized rock and roll drumming during the 1960s. His second line syncopated drumming on the Meter's anthem, Cissy Strut, has been voted one of the most memorable drumming moments in Jazz history. Zigaboo's impact on music carries on into the 1990s as his drum beats are repeatedly sampled by modern rappers and hip-hoppers. If Zigaboo is responsible for teaching the world funk drumming, then Leo Nocentelli is the flag bearer for funk guitar. Nocentelli co-wrote New Orleans's anthems such as "Cissy Strut" and "Hey Pocky Way." and his now supporting his amazing first album, Live In San Francisco. As for Tipitina's, imagine a huge air conditioned warehouse with a huge stage, multiple television monitors, too many bars to count and one big disco ball. Just walking into the establishment made you want to own a bar.
New Orleans is a sprawling city and it is not friendly to the "transportation-less." You need to take cab everywhere and sometimes its it pretty difficult to find one. In the course of one weekend, we covered a lot of ground. We were the masters of the pub crawl in which the pubs weren't a short stumble from each other but rather an overcrowded but enjoyable cab ride. When ever we took these trips from Uptown to Downtown, from the Warehouse District to the Garden District, from the French Quarter to wherever, we always passed through the central business district. Dominating the center of town was the Superdome, the home of the New Orleans Saints. Immediately next to the Superdome, the city was building a new coliseum. During these cab rides, I would wonder what teams would occupy the new building. I decided that instead of creating expansion teams, New Orleans should steal teams from other cities. They should get their basketball from Utah, their hockey from St. Louis and their baseball from Milwaukee. Utah and St. Louis would provide the heart an soul on New Orleans - Jazz and Blues. Meanwhile, recruiting Milwaukee's team has more commercial concerns. Without New Orleans, the Brewers of the world may just go out of business.