A Slew of Jazz from Koch International
By Benson Knickerbocker
Chicago's Koch International has taken advantage of the jazz re-release hysteria that has been gripping the nation and has obtained some interesting albums from the vaults of Atlantic Records. Through this re-releases, there is quite a range of music covered: the rock and roll/jazz fusion of Gary Burton; the West Coast Jazz meets Sweden folk songs of Art Farmer; the gospel/hard-bop of Max Roach, the avant-garde/funk of Don Pullen and much, much more. Let's take a quick tour.
Don Pullen/Tomorrow's Promises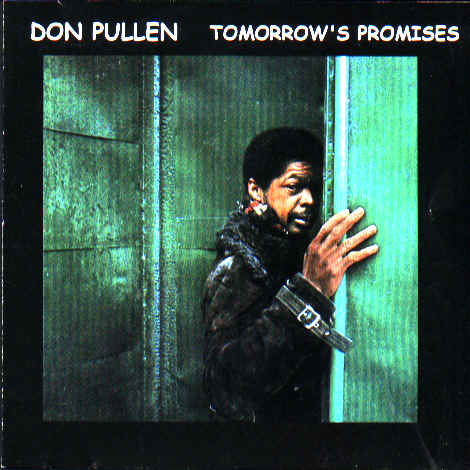 Don Pullen ranks up with Cecil Taylor, Sun Ra and Andrew Hill as one of jazz's great avant-garde pianists. What makes Pullen stand out from his contemporaries was his technique. Unlike these other pianists, Pullen played his music with steady rhythm. As Taylor approached his music with a classical flair and Sun Ra loved his synthesizers, Pullen relied on a upbeat rhythm section. This is most evident on Tomorrow's Promises in which two of the album's tunes, "Big Alice" and "Poodie Pie", start off with the funkiest of bass beats. It is only the free form soloing of Pullen, guest violinist Michal Urbaniak and trumpeter Randy Brecker that brings the music down to an avant-garde level. On "Kadji", the same cooperation between songs occurs as the Africa-Latin sounds reminds us of a dinner date between the Art Ensemble of Chicago and Willie Bobo. On "Last Year's Lies and Tomorrow's Promises", which is with duet between longtime friend and fellow Charles Mingus alumnus, multi-reedist George Adams, there is the first real evidence of the avant-garde music that Pullen represented. Pullen was one of the few artists who succeeded in combining two polar opposite musical styles and was able to improvise and explore freely while creating an accessible sound.
Max Roach/Lift Every Voice And Sing with the J.C. White Singers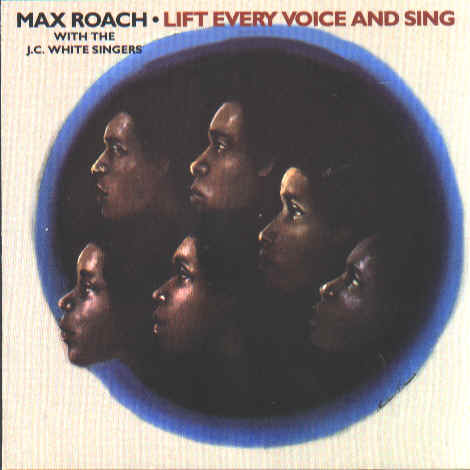 Drummer Max Roach has been one of the steadiest musicians in jazz. Since his first days during the Be-bop revolution up to the Burlington Jazz Festival a few years back, Roach has been consummate innovator. He was one of the first drummers to primarily use the ride cymbal instead of the bass drum and subtlety rather than aggression characterized his technique. In 1970s, Max Roach and his band met up with the Reverend J.C. White Singers to record this intensely spiritual album. Consisting of 5 traditional gospel songs and one original, Max Roach provides a jazz backdrop for the soulful voices of the J.C. Singers. On many of the tunes, Roach simply provides a dissonant breakdown for the singers while in other tunes such as "Joshua" and "Let Thy People Go"; the soloing of Cecil Bridgewater over the percussion tandem of Roach and Ralph McDonald creates a very spiritual song. The spirituality in these songs are carried on over to the dedications as well. The tunes on Life Every Voice are dedicated to Roach's mother and father; Patrice Lumumba, the matyred leader of Democratic Republic of Congo; Paul Robeson, the Broadway actor/singer who loved Negro spirituals; and Marcus Garvey, the leader/founder of Rastafarianism.
Bobby Hutcherson/ Un Poco Loco
George Cables was the pianist for Max Roach's Lift Every Voice And Sing with the J.C. White Singers as well as vibraphonist Bobby Hutcherson's 1979 release, Un Poco Loco. In addition to his adept playing, Cables also contributes two songs to this session – "Love Song" and "Ebony Moonbeams". Besides Cables' two tunes, this album has extra focus on the piano, as the title track is a cover of Bud Powell's famous piece. Perhaps this emphasis on piano compositions further extrapolates the visual relationship between the piano and vibraphone. The tune has a horizontal layout that allows for some basic similarities. Just as Lionel Hampton and Milt Jackson defined the vibraphone in the Swing and Be-Bop eras, Bobby Hutcherson similarly impacted the post bop/avant-garde sound. Despite years of bold innovations, Un Poco Loco is actually a step closer to the mainstream sound. Any loss that may have been incurred with song choice was easily remedied by the band consisting of guitarist John Abercrombie; drummer Peter Erskine; bassist Chuck Domanico and Cables. In addition to Cables' two tunes and the title track, the band plays a version of Jack DeJohnette's "Silver Hollow" (which Abercrombie recorded with DeJohnette in 1978) and Hutcherson's own " I Want To Stand Over There."
Freddie Hubbard/High Blues Pressure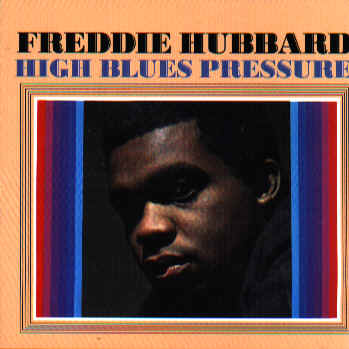 Like Bobby Hutcherson, trumpeter Freddie Hubbard has covered the whole gamut of musical styles. He grew up in Indianapolis where he played and recorded with the Montgomery Brothers and then moved to New York City in the early 1960s where he joined up with Art Blakey and the Jazz Messengers. In 1961, Hubbard won Down Beat Magazine's "New Star Award." Throughout the 1960s, Hubbard was a leader in the avant-garde sound as he played on Ornette Coleman's Free Jazz and John Coltrane's Ascension. As the 1960s came to an end, Hubbard made a successful switch to the mainstream and proceeded to win nine Grammy Awards. 1967's High Blues Pressure signifies the transition period from hard-bop to the smoother sounds. He is joined by the great flautist/saxophonist Bennie Maupin, who later joined Miles Davis for Bitches Brew and Herbie Hancock for Headhunters; tuba player Howard Johnson, who gained fame playing with Taj Mahal; and Kiane Zawadi, who played the euphonium, which was a variation of the tuba. The album has quite a bit of a Latin tinge to the album and the overall feeling of the album reflects a smoother side but the soling is reflective of hard-bop.
Randy Weston/ African Cookbook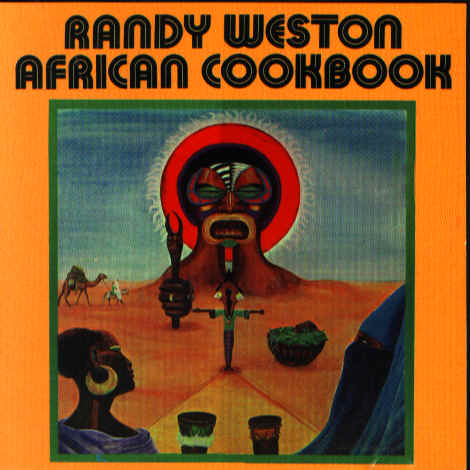 With album titles like Zulu Uhuru, Afrika and Nuit Africaine, there is little doubt where pianist Randy Weston draws his inspiration. 1964's African Cookbook is a continuation of the artist's trends. Weston's fascination with Africa went beyond album titles for he lived in Nigeria from 1961 to 1963; toured 14 African countries in 1967 and then lived in Morocco from 1968 through the 1970s. Despite the passion for Africa, don't expect a completely foreign sound with Weston's music. He grew up in Brooklyn and tutored under the great Thelonious Monk where he learned the "different" approach to playing the piano. It is Monk's influence and unique playing style that alerted Weston to the polyrhythms of the African continent. Instead of using multiple drums, both Monk and Weston created percussive sounds with the piano. For African Cookbook, Weston is joined by the great tenor saxophonist Booker Ervin (of Charles Mingus fame) as they tackle six Weston originals that do not stray to far from the jazz-blues idiom.
Billy Cobham/A Funky Thide of Things
Drummer Billy Cobham has long been synonymous with both his jazz-fusion and working with some of jazz and rock's best musicians. After starting out with the be-bop/blues with Horace Silver, Cobham joined Miles Davis for Bitches Brew; then he teamed up with John McGlaughlin for the Mahavishnu Orchestra and then formed his own fusion band, Spectrum, with Jan Hammer (yes, of Miami Vice fame) and Tommy Bolin (yes, of James Gang and Deep Purple fame). Most recently his recorded and toured with Jimmy Herring, T. Lavitz and Alphonzo Johnson for Jazz Is Dead. As the title may imply, A Funky Thide of Things symbolizes the funk/fusion side Billy Cobham. Although 1975's A Funky Thide of Things teeters extremely close to the disco-jazz ( a la Donald Byrd and the Blackbyrds) that was popular at the time, the musicianship is great. The album features the tandem horns of Randy and Michael Brecker who would later make a tremendous impact with their funk albums and the guitar of Jon Scofield, who would also later make a name through his work with Miles Davis as well as his 1990s collaboration with Medeski, Martin and Wood. The mystery contributor to this album is keyboardist Milcho Leviev who defected from Bulgaria in 1970 and contributes a broad range of synthesizer sounds to the album.
Art Farmer/To Sweden With Love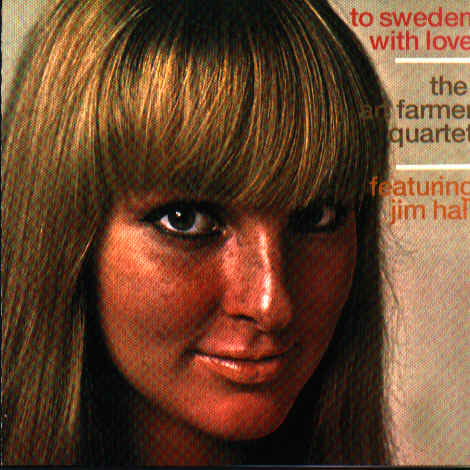 When trumpeter Art Farmer visited Sweden during the 1950s, he became immediately enraptured by the folk songs of the Scandinavian country. In a method that pre-date the European-American jazz crossover that was pioneered by ECM Records, Art Farmer took the folk songs and improvised upon their basic structures. This is an approach that was also empl,oyed with Stan Getz and the tune "Dear Old Stockholm". Upon listening to the tunes, there is little evidence of folk or foreign influences as Farmer, bassist Steve Swallow, guitarist Jim Hall and drummer Pete Laroca, who were all stalwarts of the West Coast Jazz scene, create a great sounding album. Hall, who is comparable to the playing of Wes Montgomery and George Benson, reminds all to well the benefits of having a guitarist in a jazz band for his layer of rhythm serves as an excellent foundation for Farmer's haunting solos on the flugelhorn and trumpet.
All of these releases plus many, many more are available from Koch International. Check out their website at http://www.kochint.com.